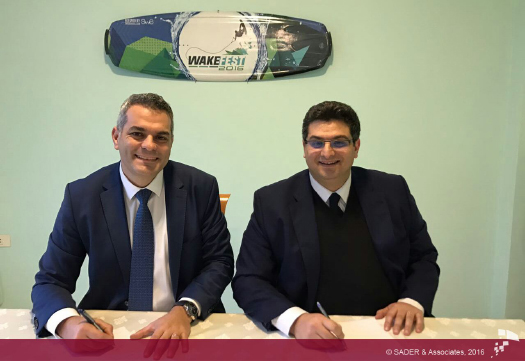 Sader & Associates, represented by its Managing Partner Attorney Rany SADER, signed on Thursday February 23, 2017, a Memorandum of Understanding with the LWWF which was represented by its president Mr. Alain Nohra at the headquarters of Federation in Jounieh.
Were present on this occasion, the General Secretary of the Federation Mr. Wadih Zleii, the Public Relation officer Mr. Silvio Chiha, the Secretary-Treasurer Mr. Cyril Zreik and Attorney Therese Abou Nahed from SADER.
By this MOU both parties commit to collaborate and bring their efforts together in order to broaden sports legal knowledge and set the legal foundations that are appropriate for the organization of the Federation's activities.
The main objectives of this MOU are the exchange of available information, data and required expertise, as well as allowing the involved persons to gain access to practical and legal basis of waterski practice in Lebanon.
The intention behind this MOU is to spread researches and studies related to waterski in order to bring it to light before the Lebanese society.
One of the essential targets is the drafting of the Federation's internal statutes that will organize its structure, elections procedures, decision-making and execution processes. The MOU aspires as well for the establishment of a dispute resolution system that would settle conflicts arising within the Federation and in connection with waterski.
Besides, parties shall collaborate to conduct workshops and organize specialized trainings to spread legal knowledge related to the sports field in general and to waterski in particular.