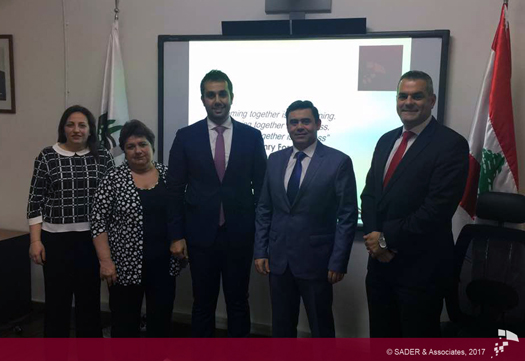 In collaboration with the Brand Protection Group in Lebanon, the Ministry of Economy and Trade and Business Conserv LLC, SADER & Associates organized on the 21st of April 2017, a two days Training Sessions on Louis Vuitton counterfeited products for the ISF officers and the ministry's employees.
The Sessions were opened by the launching speech of Mrs. Alya Abbas, Director-General of the Ministry of Economy and Trade in which she praised the collaboration between BPG and the Ministry.
The Training, entitled "Disadvantages of Counterfeiting and the Best Practices in Spotting it", was presented by Attorney Nisrine Haddad, Partner and Head of IP department at SADER & Associates and by Attorney Malek Hannouf, IP Representative of Louis Vuitton Middle East.
Trainers narrowed the learning outcomes to three. At a first stage, Att. Hannouf provided Officers and Employees with an overview of Louis Vuitton profile and different products. He then explained to the attendees the various means permitting to detect counterfeited Louis Vuitton items. Att. el-Haddad set out the diverse IP law enforcement activities and emphasized on the measures undertaken to fight counterfeit in Lebanon.
At the end of the Training, certificates of attendance were distributed to the Employees and Officers to reward their participation.