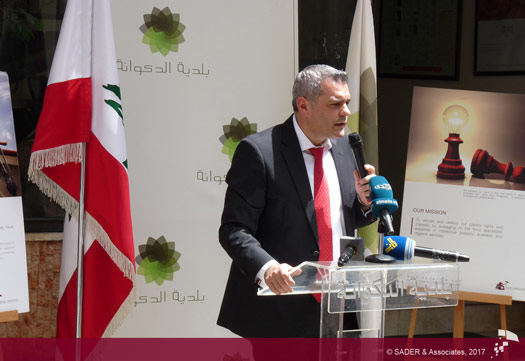 The International Intellectual Property International Day was celebrated in a very special way by SADER & Associates.
On this occasion and under the sponsorship of Attorney Antoine Chakhtoura, President of Dekwaneh Municipality, were destroyed specimens of counterfeit goods seized by SADER & Associates in the Lebanese market during the foregoing year.
The event organized in collaboration with the Brand Protection Group in Lebanon, took place on Friday, April 21st at 1:00pm near SADER offices facing the faculty of Agriculture of the Lebanese University in Dekweneh.
The ceremony was attended by a large audience of officials and attorneys counting the president of IP unit in the Lebanese Ministry of Economy, Mr. Wissam El-Amil representing the General Director of the Ministry Mrs. Alia Abbas, and the president of the Criminal Special Investigation Unit General Ziad El-Jazzar as well as the President of financial crime and money laundering fighting office, Colonel Bashar El-Khatib.
Attorney Rany SADER, managing partner of SADER and Associates, and vice-president of the Brand Protection Group, pronounced a speech in which he declared that imitation is an economical cancer eating up not only the Intellectual Property Rights but the citizens' health and the national economy as well. SADER proclaimed that this event, rendered possible with the support of Dekwaneh Municipality, is a unique experience to be reiterated each year on the occasion of the IP International Day.
President Antoine Chakhtoura applauded the environment-friendly means used for the destruction of the seized counterfeit goods and wished the Lebanese government had employed such means to resolve garbage crisis.
At the end of the ceremony, Attorney Rany SADER offered a commemorative plaque to President Chakhtoura and the audience was given to discover the modern environmentally compliant destruction process.