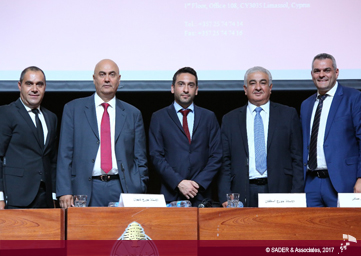 A conference on "Business in Cyprus from a legal and tax point of view", was organized by the Beirut Bar Association, in cooperation with the Lebanese Cypriot Business Council and "SADER & Associates" on July 5, 2017.
The speakers were the Bar Association Board member Mr. George Estephan, the President of the Lebanese Cypriot Business Council Mr. George Chehwan and Mr. Philippos Hadji-Zakarias of Cyprus' PHS Consulting, in addition to Attorney Rany SADER, managing partner p SADER & Associates.
The conference was attended by a large audience composed of lawyers, judges, businessmen, bankers and professionals from different financial fields among which the General Consul of the Cypriot Republic in Lebanon.
Mr. George Estephan stressed on the importance for lawyers to acquire knowledge in foreign legislations, which opens for them wider horizons.

The President of the Lebanese Cypriot Business Council, Mr. George Chehwan, emphasized on the worthiness of investment in Cyprus, this country being close to Lebanon and presenting several privileges and advantages specially in connection with taxation and residency permits. He explained how Cyprus emerged from the consequences of the Greek economic crisis in 2013 by issuing laws that encourage foreign investment and by creating incentives and facilities related to tax exemptions and granting of Cypriot nationality and permanent residency.

Mr. Phillipos Hadji-Zakarias explained the tax facilities system from which Lebanese investors may benefit and explained how Cypriot law protects intellectual property rights.

Attorney Rany SADER presented the reasons behind the expansion of SADER & Associates in Cyprus in parallel with the expansion in the Gulf.
He stated that no local partner is needed for the establishment of On Shore companies in Cyprus in addition to the protection of IP rights that constitute the biggest part of SADER & Associates work.
SADER then added: "I have made researches in order to expand SADER in the best European countries, and found out that Cyprus was the most suitable place with regards to its geographical position, the facilities it grants and the taxation incentives.
SADER finally invited the graduated lawyers to think of expanding outside Lebanon since the legal profession is changing with the electronic development.
The conference was followed by a buffet and the organizers offered two full paid trips to two junior lawyers to Cyprus.