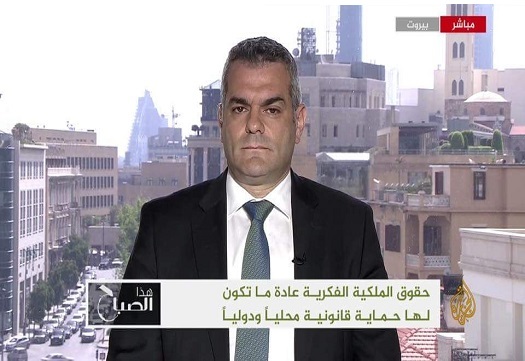 For the occasion of IP International day, Attorney Rany SADER, Managing-Partner of SADER & Associates and vice-President of the Lebanese Brand Protection Group, gave an interview to Al-Jazeera TV Chanel on the importance of Intellectual Property Rights protection.
SADER considered that IP rights violation is a worldwide issue and that the Arabic world represents less than 2% of the world weight loss which amounts to one trillion dollars per year.
SADER stated as well that the increase of IP violations, despite the various protection means, is mainly caused by globalization, freedom of trade, simplification of customs procedures in addition to technology developments and internet use. Said factors facilitate imitation of products and trademark counterfeit.
On another note, SADER affirmed that ideas, as such, are not protected and that being the idea's provider doesn't guarantee its ownership. What guarantees the ownership, and therefore the protection, is to bring the idea to fruition through its execution.
Regarding intellectual, artistic and media products, the simplest and cheapest way to protect them is to send them by post to ourselves which certifies in a way the production date. Whereas, regarding commercial products, the registration before the competent authorities in accordance with the country's law, is the unique protection method.
Moreover, SADER applauded the role played by the World Intellectual Property Organization (WIPO) in the IP rights protection field. He declared that: "regarding copyright, when the author is protected in one of the member-countries, he shall be protected as well in all the 188 members. Besides, a large number of Conventions protecting IPs do exist and may be beneficial if applied in our Arab world."
As a conclusion, SADER insisted on the importance of IP culture awareness and said: "IP is inherent to Human Being. It accompanies him in all what his mind may create during the different stages of life and persists even after his death.
mediaview.aljazeera.com/video/evaf59Hc7p